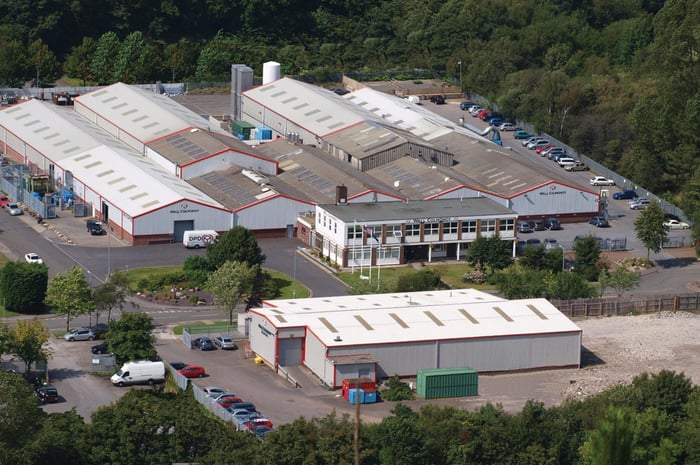 Wall Colmonoy Limited manufactures surfacing and brazing alloys, additive manufactured powders and components, castings and precision machined components and provides advanced metal coatings, brazing and heat treatment.
Established in 1969

200 team members

Water and Gas Atomised Powders

Colmonoy® nickel-based hardfacing alloys and products
Nicrobraz® nickel-based brazing filler metals and products
As Cast and Precision Machined Castings – Investment, Centrifugal, Sand Cast, Vacuum Cast or Hot Isostatic Pressing (HIP) Processes
Machine Shop - state of the art machining 23,500ft2 facility
Brazing Centre - designing a brazing joint, developing a new brazing process, vacuum brazing or full assembly
Coatings – hardfacing, wear-resistant coatings to extend service life and enhance performance
Modernised Chemistry and Research & Development Laboratory
Additive Manufacturing metal powders and components - design and produce
Develop and Manufacture Alloy Products
Wall Colmonoy Limited develops and manufactures Colmonoy® (nickel) and Wallex® (cobalt) hard surfacing, and Nicrobraz® (nickel), Niferobraz® (iron) and CuBraz™ (copper) brazing alloys.
Colmonoy® and Wallex® have outstanding metallurgical and physical properties that extend the life of parts subject to wear and corrosion. The alloys are applied by a wide range of techniques including Laser Cladding, PTA, HVOF, Plasma Spray, Spray & Fuse and Powder Welding.
Nicrobraz®, Niferobraz® and CuBraz™ brazing filler metals and brazing aids join parts for high-temperature and corrosion applications for Aerospace, Automotive, Defence and Energy industries.
One Source for Precision Cast or Fully Machined Components
Wall Colmonoy Limited manufactures as cast or fully machined precision components. Investment, Centrifugal, Sand Cast, Vacuum Cast or Hot Isostatic Pressing (HIP) Processes. Machining facilities include EDM, CNC wire cutting, CNC grinding, honing, CNC milling, lapping and CNC turning.
Aerobraze – A Specialised Business Unit
Aerobraze Engineered Technologies (AET) is a specialised business unit with expertise in PTA, HVOF, Laser Cladding, Fuseweld™ and Sprayweld™ deposition processes; vacuum brazing and vacuum heat treatment. Aerobraze is an aviation standard repair facility providing OEMs with weld repair solutions.
Modernised Chemistry and Research & Development Laboratory
Advanced Testing Capabilities
Our laboratory is equipped with full material characterisation capabilities including ICP-OES Emission Spectrometer, Thermal Analyser, and SEM/EDS analysis capabilities.
Our highly skilled technical team performs materials characterisation and failure analysis for thermal spray powders and brazing filler metals. The ASTM G65 provides standard tests for measuring abrasion.
Accreditations and Certifications
Wall Colmonoy Limited is ISO 9001 and ISO 14001 accredited. AET business unit is AS9100 accredited and Nadcap approved for Brazing, Heat Treatment and Welding along with Rolls-Royce and many other specific customer approvals.
Our People – A World Class Team
Wall Colmonoy employs over 200 people in Wales. Highly skilled and well-trained operators, and experienced technical and sales teams help our customers operate more efficiently and effectively.
Exporter To The World
Wall Colmonoy Limited exports 80% of its products to Eastern and Western Europe, MENA, South Africa, and India – serving a long established customer base in the aerospace, automotive, glass container, oil & gas, steel, power gen and nuclear industries.
Find out more about Wall Colmonoy Limited (UK)
CONTACT
Wall Colmonoy Limited (UK)
Alloy Industrial Estate | Pontardawe Swansea Wales United Kingdom SA8 4HL
Tel +44 (0) 1792 860647
Alloy Products: alloyproductsales@wallcolmonoy.co.uk
Precision Components: componentsales@wallcolmonoy.co.uk
Aerobraze: aet@wallcolmonoy.co.uk
ColWear: colwear@wallcolmonoy.co.uk
Additive Manufacturing: additivemanufacturing@wallcolmonoy.co.uk